What is a Domain Name?
A domain name is a website's online address on the internet.
The domain name for this site is: MissionalTech.net
If you want to setup your own website or your own email, then the first step is to register a domain name with a registrar.  There are loads of domain registrars from which you can register a domain.
Have a look at Only Domains – https://www.onlydomains.com/ or family friendly PurityNames – http://www.puritynames.com/en/
Other Domain Registrars I have used include:
The first step is to actually decide on what Top Level Domain you are wanting.  There are quite a few Top Level domains (TLD) like: .com, .org. .net, .biz, .info, and then there are Country codes which are also available like: .org.au (Australia), .nz (New Zealand) so there are plenty to choose from (annual registration prices vary for each too).
NOTE: Some Domains require you to qualify to register the Domain, for example to register a .com.au domain in Australia you need to have an ABN number which indicates that the domain is closely linked to your business name.
When it comes to doing a domain availability search shortly, you will see the multitude of options available.
Next, decide on your second level domain – usually the name of your organisation or site you want to register. The second level domain for this website is MissionalTech (with .net being the Top Level)
How too choose a domain name
When choosing a name name you need to consider:
if it is a commercial or business related site, you should look for .com or commercial in country TLD like .com.au (Australia) or .co.nz (New Zealand) .biz might also be suitable
if it is a site for an organisation or church, go with: .church,  .org or maybe .info
for a techie or internetty type site: .net, .info probably suits best
But the options are ever increasing. Now TLD's include things like: .faith, .city, .club, .sydney, .mobi, .online, .me even .house!
Searching for a Domain Name
Now it's time to see if the domain that you want to register is available!
Lets use OnlyDomains site to search for an available domain name and register it.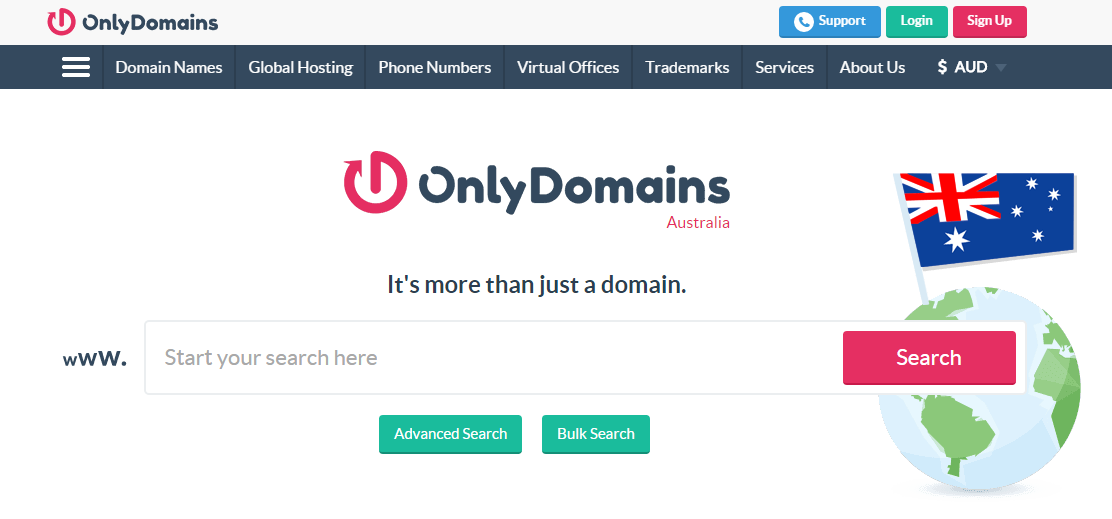 Once you're at OnlyDomains you'll see the search box above. The first step is to simply enter the second level domain you want – so let's say you are the "Young" family, planning on setting up a website to share "what your family is doing on the mission field of Uganda", and you like the sound of "Youngs in Uganda" lets start searching.
Enter in the search box "Youngsinuganda" as one word.

Then click the "Advanced Search" button and you will get a stack of choices for different TLD's – country registrations, regional and generic domain names all available to search.  Also OnlyDomains will make some recommendations to you which you can see when you scroll down.
I think for this family something like .info would probably be suitable, so Im just going to add .info into the search bar.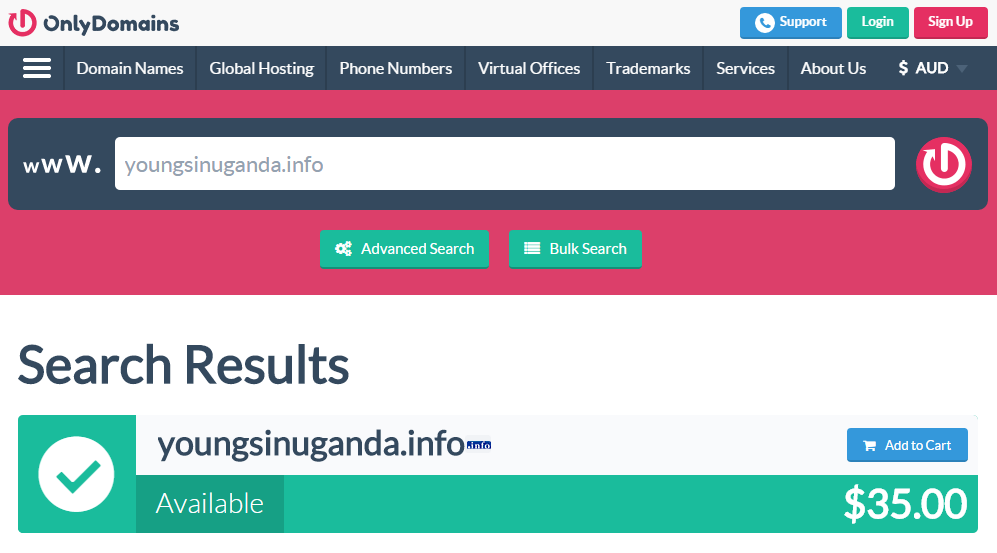 That search result shows me that "YoungsinUganda.info" is available, but it will cost me USD$35 to register. What can I get which is cheaper?  This family is from New Zealand and I can see that the .nz domain would only be USD$14.99 and it is available.
So I think in this example that would be a good choice – I have the second level domain I want (YoungsinUganda) and a suitable Top Level Domain – (.nz, which as a New Zealand family, fits appropriately).
All I have to do now is click Add to Cart, Login (or Register) and make Payment.
Domain name registration done!
Domain names are registered with an annual fee. you can pay this in advance any number of years to ensure you retain the domain name, but once you stop paying for it the domain name becomes available for someone else to register.
Registering a domain name is just the beginning of claiming ground on the internet though! The next thing you will want to do is setup webhosting so you can have a website at your domain. Usually with webhosting you add email hosting also.