With so many people using wifi enabled mobile devices it's common to see people out in public browsing the web, on social media, or doing any number of things on their smartphones and tablets.
How can a Christian engage in ministry in that context?  If you're in a location where you regularly see people sitting on their phones, how can you introduce them to Christ and spiritual things through that technology?
The BibleBox gives you a way to distribute Christian resources wirelessly and anonymously. A mobile ministry which is easy to engage with.
What is a BibleBox?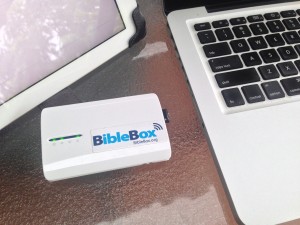 The BibleBox is a small wifi device which enables the sharing of digital Bible and any Christian discipleship resources on its own wifi network.  The BibleBox combines:
a small wifi access point TPLink MR3040 (other routers running Openwrt are now being used by others including the TPLink MR3020, the TP Link WR842ND)
a USB drive containing digital Bible resources for sharing
software which provides a webpage interface to the resources and a user chat feature
There is no internet connection required.  A user with a wireless enabled device such as a smartphone, tablet or laptop simply connects to the BibleBox wifi network and opens their web browser.  The BibleBox then provides the user with a web based interface providing access to the shared files stored on the connected USB drive. Users accessing files on the BibleBox are not able to access the internet, as there is no connection other than the wifi link to the BibleBox.
No user information is required or stored on the BibleBox.  It simply provides a free wifi network to enable access to the shared files on it's USB drive. This makes the BibleBox ideal for sharing files privately and securely. No login is required, no interaction with anyone is required.  Simply connect to the BibleBox wifi and access the shared files from your device.
With it's built in battery (on the MR3040 model) the BibleBox is a simple and convenient tool to distribute digital Bibles and other training resources, whether at your local cafe, bus stop or in areas where there is limited or restricted access to Bibles and Biblical resources.
The BibleBox project is free, you just need to purchase the equipment (around USD$45) and follow the instructions on BibleBox.org to make your own.
How to use a BibleBox
Load files to share in the folders on the USB stick (text, audio, video, images, any file…)
Turn on the BibleBox
On a mobile device connect to the wifi and in a web browser go to http://BibleBox.org
Examples of ministry use of a BibleBox:
Australia – at a monthly free backpackers BBQ in Cairns. People are invited to join a BibleBox wifi and access files helping them when visiting Cairns and also to access to Christian material.
Australia – Mission Aviation Fellowship – pilots in Arnhem Land (NT) carry BibleBoxes with them in aircraft to make Christian material available to indigenous communities as they travel around the Northern Territory.
Australia – fixed BibleBox used to share resources with people waiting at a nearby neighbourhood Bus Stop. Has around 5 visits a day.
Italy – Christians using BibleBoxes carried in backpacks around refugee camps, neighbourhoods and market areas reaching out to refugees from  Eritrea, Sudan, Iran, Afghanistan, Pakistan, many other countries. usually authorities restrict the sharing of Christian material. Using the BibleBox makes sharing less visible to be stopped.
Kenya – People on regular missions trips from Australia share digital Bibles using a BibleBox to local's mobile phones. Paper Bibles used to be shared but these were costing around $10 each.
Mexico – using a number of fixed and mobile BibleBoxes to share resources to the Triquis people. Running workshops on how to use the BibleBox and other digital resource sharing methods.
[restricted Access Countries] – in these countries where Christian activity is monitored there are people using the BibleBox to share digital Bibles and Christian resources using wifi to public and Christian communities.
Papua New Guinea – Scripture Use Media use a number of mobile and fixed BibleBoxes to share Christian resources in over 250 different languages from multiple locations around the country
Global Recordings Network – use 60 BibleBoxes in various locations around the world to share their resources
Solomon Islands – Christian Bookstore owner shares translated Bible books as they come available
Where to get a BibleBox?
The BibleBox is a freely available project – you just need to purchase the equipment (around USD$45 for a TP Link MR3040 v2 wifi router), download the software and carefully follow the instructions – on BibleBox.org